National Night Out scored well in our Crestwood community. With eight events that evening, we had a total of 165 neighbors in attendance. In addition, we greeted the Fairfax County Police and Fire Departments. The big red and white fire trucks are always a hit, especially with the kids, but I assure you, the adults appreciated their presence and that of the uniformed police officers as well. We joined communities from across the country in showing that we care about our neighborhood, our police and fire safety and our support for each other.
SCA President Bruce Waggoner has this to say about the event:
"The SCA's successful involvement in National Night Out (NNO) on 7 August is attributable to our neighbors and friends who hosted gatherings. George Towery led the way and we commend him. I had a terrific time at two cookouts, renewed acquaintances and got to know several folks I had not met before. It was yet another reminder of the eclectic nature of our community, i.e., people of all types and experiences who are doing amazing things with their lives and have much to share and to give to others. The SCA neighborhoods are rich in skills, talent, variety and experience. Our demographic is our greatest resource."
Thanks to Betty and Joe McGowan, Cassie and Jason Planakis, Peggy Woods-Clark, Gail Nittle, Merry Macke, Kim Hatfield, Gail Parsons and George Towery who opened their yards and graciously welcomed neighbors some of whom formally met for the first time. Next year, let's continue to celebrate and expand our National Night Out events. Four hosts have already agreed to repeat the event next year.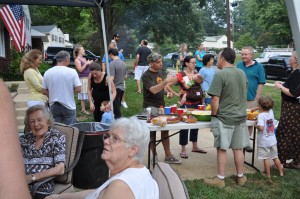 A large multi-generational gathering on Atteentee Rd.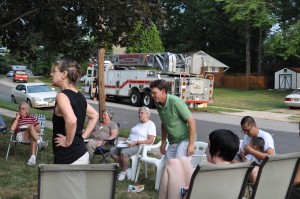 Babies, firetrucks, and lots of neighbors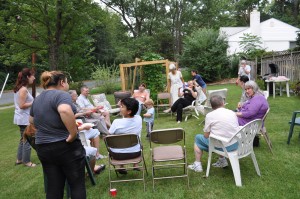 Board Members Gail and Merry teamed up to host 25 neighbors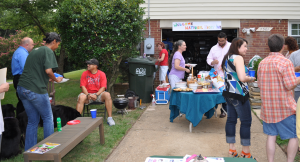 Neighbors who previously only waved met for the first time at this event