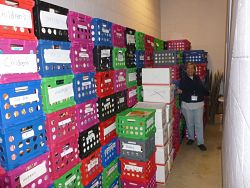 Where can $5 get you an arm full of books and solve your holiday woes? Why the Friends of Richard Byrd Library Used Book Sale, of course! All day Thursday, Friday and Saturday, November 29th – December 1st, the Friends will host their largest sale ever. With over 10,000 offerings, you'll find your favorite fiction, history (especially military), hobbies, and children's books, most in pristine condition.
Gift giving has never been easier or more affordable. Plus, the money we raise from your purchases go directly to our library. Thanks to you last year we were able to buy the library The New York Times and 14 other subscriptions. We also funded our children's programs and so much more. So include a shopping stop during our sale.
Thursday, Nov 29, 1-3pm members only, 3-9pm everyone welcome
Friday, Nov 30, 10am-6pm everyone welcome
Saturday, Dec 1, 10am-5pm everyone welcome
Sunday, Dec 2, 12-3pm – BAGSALE!!
We can't wait to see you at Richard Byrd Library, 7250 Commerce St., Springfield.