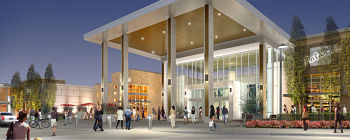 As of this week, the razing of the former Sports Authority building on Loisdale has commenced. What a welcome sight! Macy's, Target and JCPenney remain open at Springfield Mall, though the interior was shut down over the summer to begin redevelopment construction.
Michael Neibauer of the Washington Business Journal recently reported that Lee District Supervisor Jeff McKay toured the mall in October. "I've seen a whole bunch of gutting in there, which is what I expected," McKay said. "The stores are all sealed off and there's a lot of demolition. There's no real new things being built quite yet."
The mall is scheduled to reopen as the Springfield Town Center in mid-2014. Visit www.springfieldtowncenter.com to see conceptual drawings and find out where your favorite mall stores have relocated.