Brookfield Community Park is just over 25 acres and was constructed in the late 1950's to serve as a neighborhood amenity. There is a picnic shelter, trails, restroom, and one-acre pond.
The earthen dam at the pond is leaking and overgrown with trees, which are a threat to the structural integrity of the dam. The concrete spillway lacks support, the dam is eroding and the pond does not meet up-to-date safety and design regulations.
The Brookfield pond was not designed with modern day stormwater management techniques but in its new configuration it will drain the surrounding 49 acres and contribute to improved water quality downstream
Plans for Brookfield Park include reconstruction of the dam and outlet structure, installation of a forebay system, restoration of two stormwater outfalls, parking lot improvements, and a look out area on top of the stormwater outlet.
Where the stream enters the pond, a wetland forebay system will be installed. Forebays are several smaller ponds that are placed along the water flow path. The smaller ponds will collect and filter pollutants and sediment for improved water quality in the pond. This new forebay system should help control the algae problems in the pond. Floating wetlands will be installed to increase pollutant removal. These are constructed using native and aquatic plants that float in rafts and function as natural wetlands.
A new road is necessary for maintenance and will be constructed from the parking lot to the far side of the dam. Permeable pavers that filter stormwater will replace some of the asphalt in the parking lot. Native plants will be installed but nothing will be planted or should be planted on the dam.
The pond will be drained and the fish will be moved to Lake Accotink. The pond will be rebuilt to meet present day standards for stormwater detention and water quality. The project has been designed to save as many trees as possible.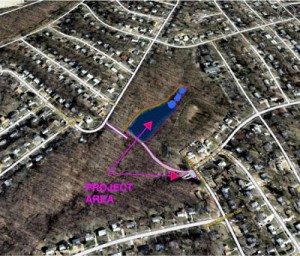 A final design has been completed and construction is scheduled for late summer or early fall, 2013. The trail through the park will be closed during construction, which may continue for five months, weather permitting.
For more information call the Stormwater Planning Division at 703-324-5500, TTY 711 or email SWPDmail@fairfaxcounty.gov