History and Purpose
The Springfield Civic Association (SCA) is a non-partisan, non-sectarian, 501(c)4 non-profit volunteer organization established in 1953 to enhance the quality of life in Springfield by encouraging residents to be active in community affairs and by advocating for their interests and concerns through local government and other organizations.
Geographic Boundaries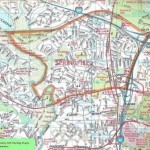 With the growth in the greater Springfield area since then, SCA now represents residents in the central part of Springfield that encompasses over 2,400 homes and 800 apartments. SCA's area is bounded by I-495 on the north (Beltway)/Railway, Old Keene Mill Road (SR 644) on the south, I-95 on the east, and Accotink Creek stream valley on the west.
Membership Eligibility
Membership is open to all residents owning, renting, or leasing property within the association's geographic boundaries.
Membership Meetings
Meetings are regularly held five times a year on the third Tuesday of September, November, January, March and May to present, discuss, and vote as needed on topics of community interest or concern. The President sets the agenda for these meetings and may call additional special meetings to address issues of major immediate concern.
Leadership for 2017-2018
President
Bruce Waggoner
1st Vice President
Gail Nittle
2nd Vice President
Alice Merrill
Secretary
Barbara Coder
Treasurer
Sandy Frieswyk
Directors At Large
Mike Slater
Joe McGowan
Past Presidents
Tawny Hammond
Al McAloon

Neighborhood Watch Chair
Maureen Gibson
Hospitality Chair
Betty McGowan